AUSTRALIAN CINEMA & THEATRE DATABASE
Please remember this listing will always be a "Work in Progress" and we seek your assistance with updating and adding to the data. If you live in one of the locations listed, how about checking out your local cinema / theatre venues of the past and present and help update the details. Street Addresses are always welcome, as most advertising did not show the street address.
CATHS is attempting to compile a database of all past & present cinema and theatre venues in Australia.
We believe we have managed to list in excess of 90% of all venues that ever screened films on a commercial basis.
All states are available for you to search - just click on the state name below.
Listings are alphabetical by location; you can either scroll through to find what you are after, or use the search button built into your viewer.
The listings shows the Location, Name* (generally the original name), Opening & Closing dates and the Current Status (if known). The next line is the address, followed by whether the location is city, suburban or country. If there were alternate names for the venue, these will be shown on a third line.
* The name shown is generally the original name the venue opened under. Subsequent name changes (where applicable) are listed on the third line.
Where a venue was demolished and a new cinema built on the site, these will be shown as two separate listings.
Photos of cinemas / theatres are most welcome
Capitol Theatre, Warrnambool (Vic).
Empire Theatre, Toowoomba (Qld).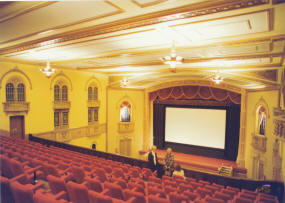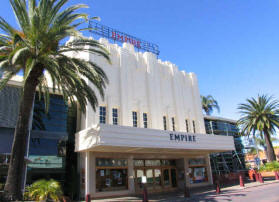 Copyright 2017 - Cinema and Theatre Historical Society of Australia Inc.